Summer 2021 Educator Guide - Love Canal
The Power to Create Change
Robert Abrams was Attorney General of the State of New York from 1979 to 1993. During his time in office he filed over 60 lawsuits against companies accused of polluting the environment. One of the most famous cases is the Love Canal. In his article, Toxic Peril, Abrams gives the historical background of this case, describes his role in holding the companies accountable for their actions, and explains how these lawsuits help to protect the rights of New York's citizens.
Compelling Question: How does government work together with citizens to protect their rights?
Setting the Stage: Show this video from pbslearningmedia.org and discuss the beginnings of the enviromental movement.
Document Analysis
Taking Informed Action: Identify one issue in your local community that requires change and list two possible actions you could take to change the situation.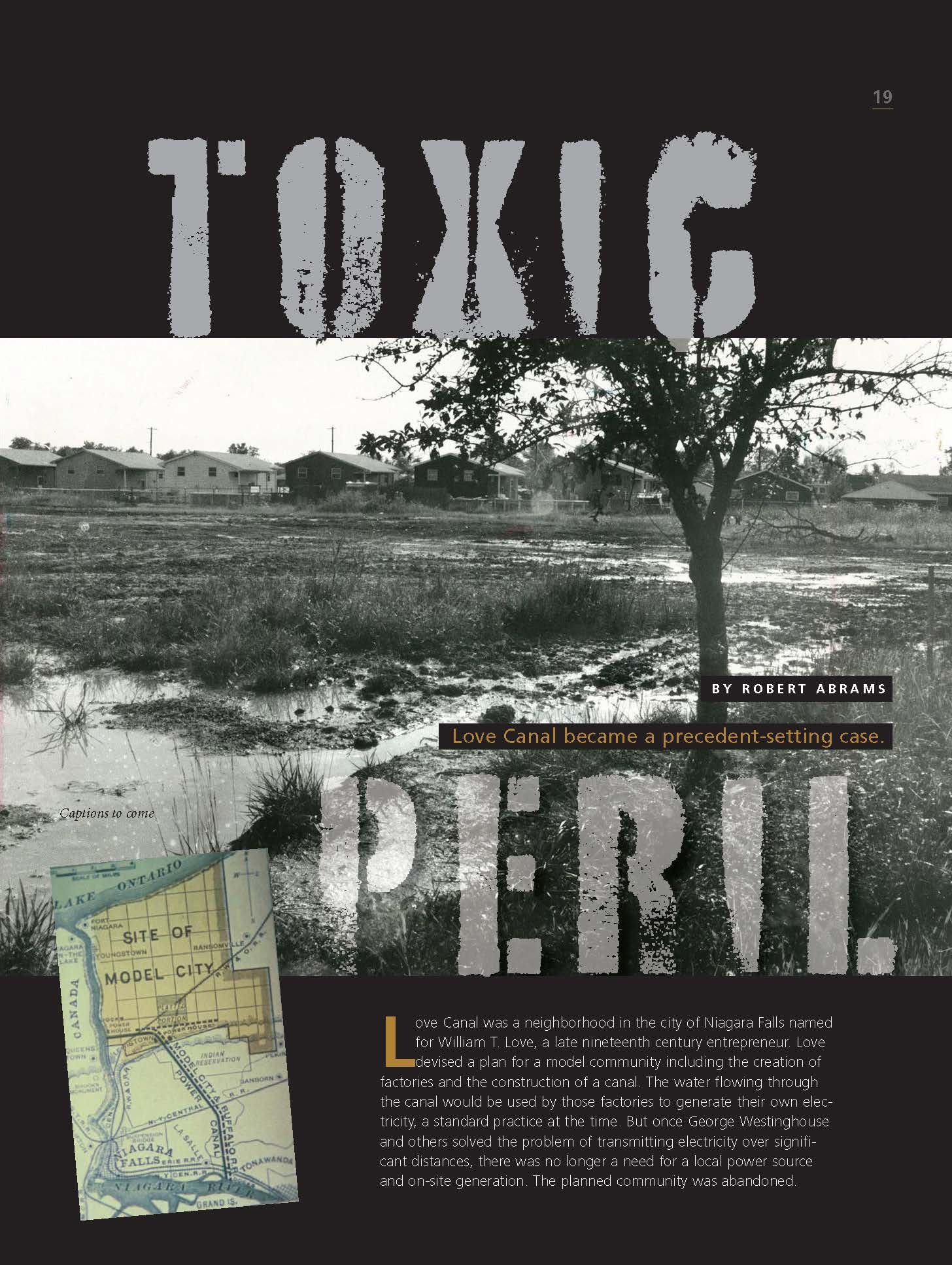 Guided Reading Questions for Toxic Peril
1. What role did Robert Abrams serve in New York government?
2. What was the original plan for Love Canal?
3. Why was this plan abandoned?
4. What did Hooker Chemical and Plastics Corporation do with the area known as Love Canal?
5. Who purchased the Love Canal property from Hooker Chemical and Plastics?
6. What deal did Hooker Chemical make with the new owner?
7. What did the new owner do with the property?
8. What warning signs did the residents of Love Canal see?
9. How were Love Canal's problems discovered?
10. What did the door-to-door survey reveal about the residents of Love Canal?
11. What role did the Love Canal Home Owners Association play in uncovering the problems in the community?
12. What was the role of the State Attorney General in the Love Canal case?
13. What legal argument was used in the Love Canal case?
14. What is a Superfund?
15. How long did the Love Canal legal battle last?
16. What is the lasting legacy of the Love Canal case?