Syracuse Latino History
Latinos were living in Syracuse as early as the late 1800s, when the 1880 census listed ten residents of the city who had been born in Mexico, South America, Cuba or Spain. These numbers did not change by large amounts until the 1950s, when Latino migrant farm workers came to pick crops in Onondaga and Oswego counties. Most of these workers had come from Puerto Rico, where times were hard due to poverty and high rate of unemployment. These workers intended to save enough to go back to the island and make a better life for their families there. Most of them worked only during the growing season and returned to Puerto Rico during the winter months. However, as the economy of Puerto Rico continued to decline over the next decade, many decided that Syracuse provided a better place to raise their families. By the 1960s, a number of Latinos had left the farms to find jobs in restaurants and factories in Syracuse. The story of Juan Gonzalez is typical of their experience. He first came to Onondaga County in 1952 on the migrant work circuit. He eventually decided to put down roots, and he was able to find work in Syracuse -- first as a dishwasher, and later in a bakery and on construction. His family was one of the first Puerto Rican families to make their home in the city.
In the 1960s, Puerto Rican residents of Syracuse lived on the South Side of the city in conservative, middle class neighborhoods. They had family and social relationships that brought them together to found the Borinquen Latin American Club in 1974. The social organization sponsored dances, softball, bowling, card games, and other activities for the community.
Vocabulary
Migrant: One who moves from one place to another.
Economy: System of interrelationship of money, industry and employment in a country.
Circuit: A complete round or course, an area or path of travel.
Conservative: Moderate, opposed to hasty changes within the system.
In 1961, seven Cuban families fled Castro's revolution and relocated in Syracuse with help from Catholic Charities. They originally immigrated to Miami, but could not find employment there, so they loaded all they had on a bus and headed north. Many of the Cubans who escaped Castro's regime in the 1960s were middle class professionals who had left everything behind to flee the repression of a Communist government. Engineers, doctors, lawyers and other professionals were among these Cubans who found their way to Syracuse. The Saladrigas family was among these first Cuban emigres to settle in the city. Carlos A. Saladrigas went on to teach Spanish in the area for thirty years, first in Liverpool Central Schools and then as a professor at Syracuse University.
By 1967, approximately 300 Puerto Ricans lived in the West Side in a poorer socioeconomic neighborhood. This group consisted of newer immigrants who had not yet established themselves. Language posed more of a barrier for them, especially because they had come from very rural areas of Puerto Rico and had not had access to a good education. Their lack of English language skills kept many of them from gainful employment, causing a cycle of poverty. The language barrier was also an obstacle that made it difficult to obtain adequate health care.
Vocabulary
Regime: A very disciplined, authoritative system of government.
Repression: The state of being held down or restrained.
Socioeconomic: Involving factors that are both economic and social.
Gainful: Increasing or improving, profitable.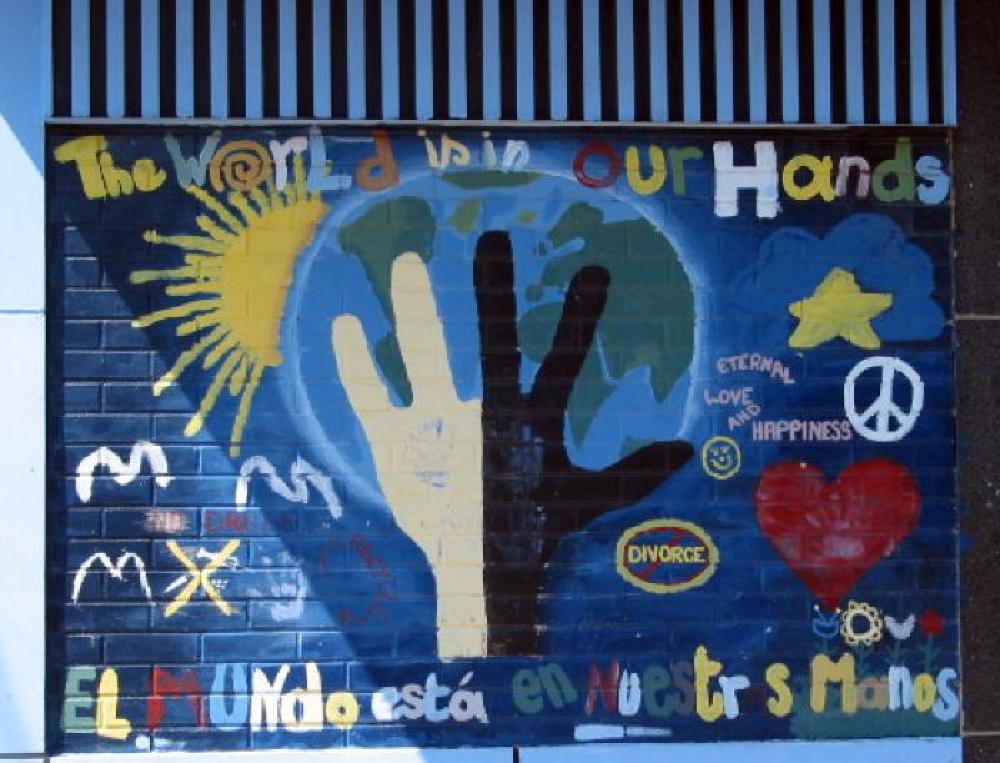 In the late 60s, the community began to respond to the needs of the West Side Latinos. In 1968, the Health Department, with the assistance of the Syracuse Chapter of Negro Women, began training "guides" who would instruct Latino residents on health care that was available to them. In 1969, the Syracuse Catholic Diocese sent Father Robert Chryst to Puerto Rico to learn Spanish so that he could better serve the Syracuse Spanish-speaking population, which had grown to 1,200 people. In 1969, the Catholic Diocese established the Hispanic Apostolate to minister to the religious needs of the Spanish-speaking community.
Also in 1969, Father Chryst and others from St. Lucy's Church met with people from Catholic Charities and Huntington Family Services to found the Spanish Action League (SAL). SAL is a nonsectarian social service agency that continues to grow today, with a budget that reached a million dollars in 2001. They advocate, counsel and educate the Latino community towards goals of independence and growth.
SAL provides social services and assistance with housing, education, community health, crisis intervention and prevention of domestic violence, employment, youth programs, and family support services. The agency's Information and Referral Outreach Program is critical to the health of the Latino community.
Vocabulary
Nonsectarian: Not belonging to one specific religion.
Advocate: One who pleads or supports the cause of another,
to uphold or support.
Over the years, refugee programs have brought many Spanish-speaking people to Syracuse. In 1980, the SAL and the YWCA brought ten Cubans from the greatly overcrowded refugee camps in Miami. These Cubans had been part of the Mariel Boat Lift, which began when Castro opened the port of Mariel to a "freedom flotilla" of American boats. Catholic Charities also provides assistance for refugees. The Interreligious Council of Central New York is another organization that gives refugee assistance, as in 1987 when the organization helped a family of six who had escaped civil war in El Salvador. Over the years, refugee programs have brought the promise of safety and a new life in Syracuse to hundreds of refugees from all over the world.
In 1987, Theresa Pagano began researching the need for Latino daycare and adult learning facilities in Syracuse. After finding that less than ten Latino children had access to early childhood education, she founded Partners in Learning, Inc., to overcome the language barrier and bring educational resources to the community. With the help of the Spanish Action League and the Syracuse School District, a space was found at Blodgett Elementary School and MANOS (Madres y Niños) opened in 1988 to serve 25 Latino children and their mothers or extended family caregivers.
A short while later, the adults involved in MANOS began asking for more formal English instruction and the West Side Adult Learning Center was established. Over the years, the program has become multicultural in scope and in the year 2001, 440 adult learners of various ethnic backgrounds were served.
Vocabulary
Refugee: One who seeks shelter or protection in another country.
Flotilla: Fleet of small vessels.
As the Latino population of Syracuse boomed in the 1980s, it became apparent that the growing needs of the community were overwhelming the SAL. At that time, Father Chryst began a Hispanic forum (foro españo) to bring together people who were working with Latinos in schools, health, or social service agencies. The group met once a month for a luncheon to open discussion on needs and services. Sylvia Martinez-Daloia, who worked for State Assemblyman Melvin Zimmer at the time, used the luncheons to recruit people to attend the NYS Assembly Somos Uno Conference in 1989. The conference had been created to encourage and support political activity in the Hispanic population of New York State. Daloia, Theresa Pagano, Sam Valasquez, Bethaida Gonzalez, and a few others were so energized by the event that they helped to establish the Association of Neighbors Concerned With Latino Affairs (ANCLA) in November of that year.
The mission of ANCLA is to serve as a catalyst for policy change by actively involving Latinos in the political process. They do not directly provide social services to the community. The group has subcommittees on health, education, employment, economic development, drugs/substance abuse, and cultural enrichment. They began one of their earliest projects by forming a consortium between ANCLA, SAL, and the Upstate Medical Center to create the Translators Interpreters Network (TIN). This vital service ensured that access to health care would not be compromised because of language barriers. ANCLA has also worked to promote Spanish-speaking support services in the city's schools. The group sponsors a women's conference, a youth conference, cultural celebrations, and yearly voter registration drives.
Vocabulary
Forum: Meeting, assembly for open discussion or debate.
Catalyst: Something that causes or begins a reaction without taking part in it.
Consortium: Association of organizations.
In the year 2001, the Onondaga Latino Caucus was founded to educate and engage the Latino community in the political process by providing voter registration sites, educational forums, and other activities. Latinos have begun to have representatives among the city's politicians: Bethaida Gonzalez served on the Syracuse City School Board from 1991-1994 and was elected President of the Syracuse Common Council in 2001. Around the same time, Laura Cardona became the city's first Latino judge. With the Hispanic population of Syracuse counted at 7,769 in the 2000 Census; the political, economic and cultural contributions of the community are sure to continue to grow in the future.
Vocabulary
Caucus: Group, meeting, especially of members of a political party, to decide policy, etc.